(D') EVOLUTION SUMMIT: The Returns of Culture
WE CREATE, WE DECIDE
Download and watch the videos in vimeo in high resolution .mov and download them here in .ogg:
Videos in .ogg
– We crate we decide
– Tracks collector
– Tracks collector – Episode 1
– Tracks collector – Episode 2
– Sharing is necessary
– I coproduced Vicky, Cristina, Barcelona
– HACTA
– Giving music to hairdressers vs the greed that refuses to understand the future
– Looking for a (north) American firend 1
– Looking for a (north) American firend 2
– Looking for a (north) American firend 3
– The missing panel
– D'Evolution Trailer

The (D')Evolution Summit was a civil society meeting to open the minds of the European Community Ministers of Culture, who had gathered in Barcelona for an Informal Meeting in the framework of the Spanish Presidency of the European Union.
The Spanish Minister of Culture Ángeles González Sinde invited the Ministers of Culture of the 27 countries of the European Union (EU) to meet in Barcelona on March 30 and 31, to coincide with the final day of the European Forum for Cultural Industries organized by the Spanish Chamber of Commerce, the Ministry of Culture and the EU Commission of Education of the EU which began on March 29.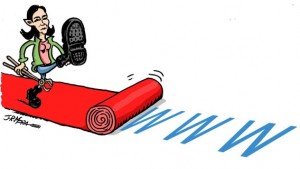 Giv€n th€ un€quivocal approach that was promi$€d by th€ m€€ting b€tw€€n Indu$try and "culture", the creative community and civil society organized three days of activities to explain the culture that we propose for the digital era, a model of culture that benefits everybody, citizens, creators and entrepreneurs: a model of culture that stimulates creativity and not just profits, and, above all, a model that does not attack the Internet or the new possibilities that the Net offers creators and society in general. "Culture" is not just the audiovisual entertainment industry, it is much more: it is our cultural legacy, it is creators and it is every one of us.
We realised that the creative community and civil society may have missed out on an invitation to the Cultural Industries Forum due to the tight schedule of the Ministers. So as citizens, we decided to mitigate this omission by creating a parallel event, the (D') EVOLUTION SUMMIT: The Returns of Culture.
We, the citizens, invited the Ministers, the speakers and the press to participate in the (D') Evolution Summit, in order to understand what is really going on with culture and creators.
We timed the event to be compatible with the ministerial schedule, and members of the organisational team were on hand at all times to provide information.
The (D') Evolution Citizen Summit, the Returns of Culture, explained and offered practical legal solutions to the new issues, based on the international "Charter for Innovation, Creativity and Access to Knowledge", which is in line with the declaration of the UN Committee of Economic, Social and Cultural Rights [1]
From March 29 to 31, 2010, we organised continuous streaming of all the programmed activities, explaining what was said at the Forum of Cultural Industries and the Informal Meeting of Ministers and responding with answers, proposals and visions from citizens – as if we had been asked for our input.
The program alternated between sections that provided a detailed explanation of what will be required if we are to move towards a model that will be of benefit to everybody and ways to achieve this aim, and other sections that turned to practical examples.
(D') EVOLUTION was divided into seven areas of action:
---
Artists must be able to live from their work if they so wish
Fair distribution of Royalties and reform of royalties management and collecting societies.
How to protect our right to share, to quote and to link up in a world made up of autonomous and interconnected individuals
Public money must have an impact on the public realm and not be privatized.
We defend Net Neutrality and after this summit we began preparing for Granada, the next appointment.
Explanatory sections:
---
Ministers, forget the past and travel to the future with us:
6 hours of videos explaining what could to be done and how we could do it.
With the participation of citizens and experts on these matters, the videos looked at the six thematic areas above, using simple language that allowed any minister to understand what civil society has been saying for a long time.
Practical examples in action around Barcelona:
---
- We will not carry the Can for an industry that refuses to adapt to reality, by Leo Bassi.
- Dear Ministers, this is what you think is happening, and this is what is happening:
* (The Ministers were offered the chance to see the creative community in action, because we were sure they would prefer this rather than going to the Liceu to see a show that has been paid for using our money, but that we will never be able to afford).
Permanent Information point
---
March 29, 30 and 31, from 11 am. to 9 pm. at Conservas,
(calle Sant Pau 58 ground floor – Metro: Liceu – Barcelona)
March 30, 2010, from 11a to 9pm. at plaza Fossar de les Moreres, (a pocos metros del congreso de los ministros -Metro: Jaume I o Barceloneta – Barcelona)
March 31 2010, from 11am to 9 pm at Conservas, (calle Sant Pau 58 bajos – Metro: Liceu – Barcelona)
Telephone: (+34)648 641 336
Organizers and/or participants:
---
Red SOStenible (nacional), FCForum (internacional), Only VIPs Barcelona (Redes creativas ciudadanas), eXgae, Avv Casc Antic, Creative Commons España, Associació d'Artistes Visuals de Catalunya, Telenoika, Màquina de Turing, Yproductions, Carlos Sánchez Almeida, Javier Maestre Rodríguez, Conservas, Alqua, P2P Foundation, La Quadrature du Net, European Digital Rights, Electronic Frontier Foundation, Scambioetico, Open Standards Alliance, ScriptumLibre, Traficantes de Sueños, Students for Free Culture, Universidad Nómada, Foundation for a Free Information Infraestructure España, Networked Politics / Mayo Fuster, Leo Bassi, Miguel Brieva, Isaac Hacksimov, Espai Social Magdalenes, Grupo de Facebook del Manifiesto En defensa de los derechos fundamentales en internet, Electric Park, CulturaLibre, OffTv, Lectrovision, Angel Uzkiano, Orxata Sound System, AVV de l'Óstia, OVNI, Compartir Dóna Gustet, Taller de Músics, Radio Contrabanda, Hamsterloco, artistas y creadores de la Taberna del Escocés…
And hundreds of citizens who contribute their skills and knowledge to perform these actions.
Financed by:
---
The (D') Evoultion Summit, The Returns of Culture
is
financed by, among others, a member of the Spanish society of authors who does not want to profit from her part of the digital levy, because she thinks it does not belong to her and chooses to reinvest it in these efforts to build a better cultural future.
Program
---
View full program

Stop ACTA
[1] United Nations Committee on Economic, Social and Cultural Rights [GE.06-40060 (E) 020206] . "The Committee considers that only the "author", namely the creator, whether man or woman, individual or group of individuals, of scientific, literary or artistic productions, such as, inter alia, writers and artists, can be the beneficiary of the protection of article 15, paragraph 1 (c). (…) Under the existing international treaty protection regimes, legal entities are included among the holders of intellectual property rights. However, as noted above, their entitlements, because of their different nature, are not protected at the level of human rights.".